this is mango beach inn
A Historic Stone Building surrounded by gardens in a natural hillside setting.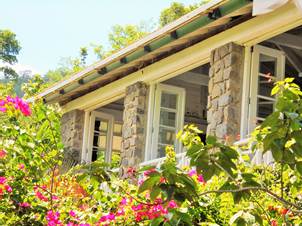 And when you're settled in, unpacked and ready to relax, you will find you are just two minutes away from eight lively bars and restaurants, a shopping village, three spas and a marina full of glamorous yachts in season. Who says you can't have it all?
Meet the team
Life on the waterfront of one of the most famous harbours in the Caribbean is a great antidote to stressful city life, cold winters and long hours in the office. So step onto the cute little ferry, leave your worries behind and meet the team who will be looking after you during your visit: Judith & John, Marie, Eva, Alfred, Belle, Honey, Nemma, Peter, Jazzy & Snazzy. The dogs and cats won't bother you unless you want to get to know them, but most children and many grownups love the pets and the fact that our garden is full of wildlife too – cool lizards, tree frogs, lily ponds' filled with mosquito eating fish and almost all of the bird species that are unique to St Lucia.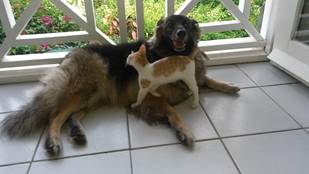 introducing marigot bay
"The most beautiful bay in the Caribbean" – James A Michener – Pulitzer Prize-Winning Author

Many times a movie set as well as the star of millions of picture postcards, seeing Marigot Bay for the first time often gives visitors a jolt of recognition. 'Have I been here before? That view …' If you've never experienced the famous Marigot Magic – it could be your time!