Activities at Mango Beach Inn
WHAT IS THERE TO DO IN MARIGOT BAY?

Mango Beach guests have three choices to make every day
Stay right where you are - there's lots to do in Marigot and all within two minutes' walk or ferry ride
Take a water taxi, a regular road taxi, or rent a car and explore some of the many fascinating places in St Lucia.
Or relax by the pool or on the beach and do nothing at all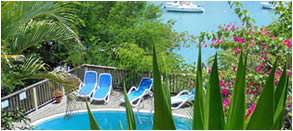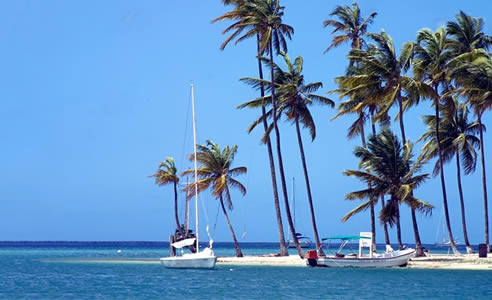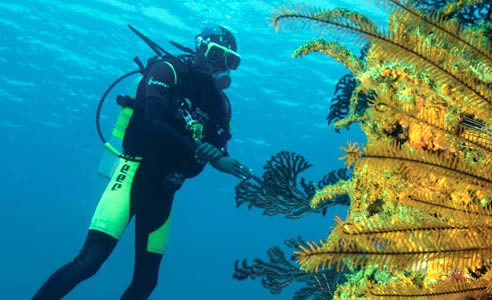 OFFSHORE FROM MARIGOT
You can be as active as you like right here in the bay: swimming, renting a kayak, a pedalo, a sailing dinghy or a paddle board and taking a closer look at the boats and the inner and outer bay.
Fishing trips can be arranged (usually early morning) with several Marigot boat operators. Hackshaw operates out of Castries, but will do Marigot pick-ups for deep-sea fishing or whale and dolphin watching trips.
You can go diving, snorkelling and kayaking with Dive Fair Helen which is based right here in Marigot – one of the first dive operators in St Lucia.
By water taxi it's a fast and exciting trip down to Soufriere and the Marine Park where the diving and snorkeling is spectacular - or north to explore Castries, Rodney Bay or spend a day at the Pigeon Island National Park.
There are local sailboats which can take you anywhere from day cruises to trips to the Grenadines.
If you're into more extreme water sports, you will find the sea on the Caribbean side is too calm for surfing, kitesurfing and windsurfing but there are hotspots for those activities in both the north and south of the island.
ONSHORE AROUND MARIGOT

Apart from the two trails which start from Mango Beach there are lots of other trails and rough roads on the south side of the bay, great for jogging or just roaming around. Sea View Avenue has the best sunset views and Trou Vollant (Flying Fish Hole) Beach is one easy walk to a secluded little cove and picnic area, 15 minutes from the Car Park.

If you're looking for a local lunch try walking up the hill to the viewpoint near the village (10 minutes) and sample the local barbeque. There are tables overlooking the famous viewpoint. 
shopping

The Marigot Marina Village has some glamorous duty free boutiques and souvenir shops.  There's also a full service bank (open every day) and a supermarket.

Souvenir shops at the top of the hill sell locally made and imported items and there are also a couple of small local grocery stores selling basic food items as well as a couple of fruit and vegetable stalls on the side of the road. 
TREAT YOURSELF TO SOME SPA TIME

The glamorous spa at Capella uses high end products in a beautiful and sophisticated setting.

Spa Mygo next to the taxi office and opposite the bank does a good range of treatments at very reasonable prices. Clean, efficient and well run.

Both spas offer full wedding services including hairdressing. But if you just want a quick haircut, check out Jake's Pop Up Barbers Shop by the Ferry Dock - which usually pops up on Saturdays. Good haircuts & great value.
early morning guided walks

For guests who are interested in learning more about Marigot, Judith is happy to take guests on guided nature walks either to Trou Vollant (the little cove to the south) or up the ridge where guests can enjoy the view of Mount Gimie and maybe do some stretches and a little contemplation on the meditation platform.
SPECIAL INTEREST GROUPS

Painting, Yoga etc. on request.
DRINKING AND DINING

Apart from the Barbeque at the top of the hill (the cheapest but not the most exciting option) there is plenty of choice when it comes to eating out in Marigot.
Hassy's Place on the Mango Beach Private dock – 'Very classy, very badassy'

Open from late afternoon most days – Hassy's is a gathering place for everybody, locals, tourists, ex pats, business owners, and on Fridays Hassy sometimes barbeques chicken wings as well as serving the best cocktails.


The Marina Village has a lovely courtyard cafe and it's an ever changing scene with boats coming and going, especially during the winter season.  Mega yachts of 200 feet and more, world famous racing sail boats from classic J Class sloops like Velsheda to fast, modern Wallys. At the other end of the boat scale are the local pirogues, fishing boats, the banana seller on his surfboard and tiny kayaks and rowing boats weaving in and out between the opulent celebrity charters. 

Masala Bay on the upper level of the Marina Village is an Indian restaurant featuring Hakka Cuisine 

Capella 6 Star Hotel (formerly Discovery at Marigot Bay) has an upscale Grill 14°61° Restaurant and the Rum Cave for more casual dining with sharing dishes and lighter options. 

Chateau Mygo is built out on a dock on the outer bay, lovely views, popular with everybody from locals to visitors and, during the season, features local music by the West Coast Band.

The Bayside Café in the Marina Village is open all day and in the evening during the winter season, serving breakfasts, lunch and dinner – sandwiches, salads, pizzas, main meals, pastries and ice cream. 

Pirates Restaurant on the dock at the east end of the bay serves local lunches and dinners.  

Doolittles Restaurant at the end of the boardwalk

Juliettas at the top of the village local fish, chicken and steaks with a fabulous view around  sunset.
NIGHTLIFE

Many of the bars and restaurants have live music at night, especially during the winter. Sometimes there are jump ups in the village with music (loud) and barbeques and there's a jump up every Friday night at Anse La Raye.
EXPLORING THE REST OF THE ISLAND FROM MARIGOT

The Mango Beach Team can help you make arrangements for whatever you want to do. This is a list of a few popular activities, there are lots more – and they can all be tailored specifically for you.

Climbing Gros Piton has to be top of the challenge list – although it's an easy enough climb for a moderately fit person. If you're super-fit and an experienced climber you can go for the triple peak challenge and climb Mount Gimie and Petit Piton as well.

Rainforest and Bird Watching trails: these are mostly in the south and some are more challenging than others. The best bird watching is on the Millett trail which is only 20 minutes from Marigot.

Nature and Conservation Experiences: such as turtle watching and trips to the Maria Islands or Dennery island are only available at certain times of year and need to be arranged through the Forestry Commission or National trust. We can help you check out these special trips.

Bathing in the mud baths, hot springs and mineral baths: Open air spa treatments - but cheaper and often more fun!

Quad Biking and Mountain Biking: run by separate organisations in different locations and are both great experiences. Tinker's Trail at Anse Chastanet is very challenging and recommended only for experts. The quad biking is also fun but less sweat and OK for first timers.

Ziplines: there are 3 places to do this on the island and some of them also have gondolas if you don't want to be suspended on a rope among the treetops

Botanical Gardens: Diamond Falls on the West Coast and Mamiku Gardens on the East Coast – both essential places to visit for anyone fascinated by tropical plants and herbs. Diamond Falls even has the original spa built by Louis XV1 for his soldiers – and very popular with the Empress Josephine. For a few dollars you can take a dip in the waters which are said to have the same minerals as Aix Les Bains in France.

History: plenty of old forts, small museums (including one at the Governor General's Mansion) and even Carib Caves are dotted around the island. The west coast towns all have some colonial buildings, old churches and a traditional way of life. Soufriere and Castries are fascinating (and noisy) – not the Disney version of the Caribbean but lively and fun. Towns such as Choiseul on the west coast have craft centres displaying traditional, locally made baskets and pottery as well as hand-made soaps and candles made with local, all natural ingredients.

Art: roadside art is everywhere, some of it, like Zaka masks, is very accessible and popular. if you want the big name St Lucian artists' work, try the Inner Gallery at Bois D'orange as well as Llewellyn Xavier's studio and the galleries at some upscale hotels (like Anse Chastanet and Ladera).

Culture: there has been a cultural revival in recent years and there are traditional music, drumming, and dancing displays all year round as well as a lot of pageantry and drama. It's a question of knowing where and when and the Folk Research Centre is a good source of information. The soca, calypso and steel pan competitions start from April through to Carnival in July, the flower festivals are colourful events in August and October, Jounen Kweyol activities all through October and the lead up to Christmas is always fun with National Day on the 13th December with all the traditional pageantry of Christmas and New Year.
SHOPPING ISLAND WIDE
On the way to Castries you can visit Eudovic's famous wood carving studio, Bagshaw's Batiks, Caribelle Batiks and Michelle Elliott's pottery and painting studio at the Pink Plantation House
Castries is well worth a visit for the fabulous fruit and vegetable market early in the morning (baskets of locally grown spices make a nice gift and are easy to pack). Two big Duty Free shopping outlets - Place Carenage and Point Seraphine – serve the Cruise Ships but are open to all visitors.
Rodney Bay has a big new duty-free shopping complex – the Baywalk Mall - which also houses the only casino on island.
Local Souvenirs: be cautious if you want to be sure they are locally made. Everything will have " made in St Lucia" labels - but most of it isn't….!
For specific items like jewelry or art – please ask us for advice. There are some talented and innovative jewelers, potters and painters on the island, but you need to know where to find them and we can help you with that!